Subtle 1% vanilla fragrance . Fits screw in glass Candlebulb. Limited supply. Burn time is 6 hours. You may wish to call first for availability.

Viola Refills Only – $20.00 per sleeve of 12. This is not the glass Candlebulb cup. Refills only.
Candlebulb Refill Alternative
Superior to the original refills since they sit higher in the candlebulb and therefore the flame can be seen better. Glass Candlebulb not included.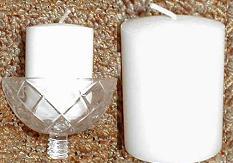 Votive Refills $20.00 per pack of 12.
You may configure the number of units you wish to purchase in the shopping cart. All items subject to shipping charges.
(Your credit card statement will reflect a charge to Point Betsie Services.)